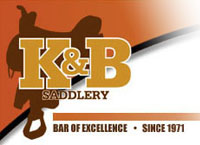 K&B Saddlery Customer Satisfaction Guarantee
Complete customer satisfaction is GUARANTEED upon delivery of any item purchased. Inspect all items delivered before usage. If you are not completely, DO NOT USE the items. Used items are not refundable. All returned items must be in new condition as received. Returned items are subject to a 20% re-stocking fee. Handling, shipping and insurance charges are not refundable. Contact our office no later than 10 days for a return authorization. Returned items will not be accepted without a return authorization. All sales are final after 10 days.
Special order merchandise made to your specifications is NOT refundable, no exchanges.
We will EXCHANGE any saddle for a different size or style without being subject to a 20% re-stocking fee. We will ship and insure the saddle back to you. The customer us respobnsible for shipping and insurance in returning the saddle to be exchanged.
We value your patronage.
DISCLAIMER: We at K&B Saddlery, Inc., have no control over our products after leaving our warehouse. Therefore, customers are responsible for the inspection of all products for safety and serviceability prior to use. We will not be held liable for any product failure due to accident or injury resulting from the use or misuse of the products we supply.